The different types of Stand Up Paddleboarding
Stand-up Paddleboarding (SUP) comes in many forms – one of the reasons the sport has gained such widespread popularity. Stand up paddleboard enthusiasts may participate in any or all of the SUP disciplines. Each has its aficionados, and some do require specialist equipment if you intend to excel at them, but all are perfectly feasible to try using a standard recreational paddleboard and paddle. In other words, one board can do all of the following:
Cruising & Exploring + Surfing + Racing + River Riding + Fitness + Fishing
Cruising and exploring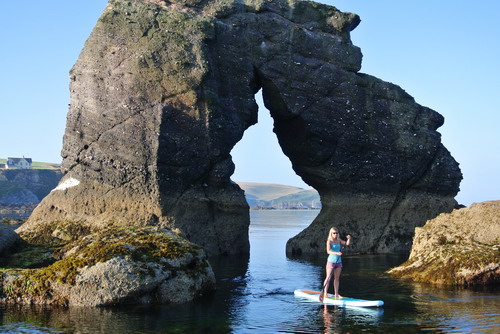 By far the most common use of the stand up paddleboard is simply get-on-and-go – whether it's around the lake, across the harbour, along the coast or just exploring the immediate vicinity. Their ease of launching, effortless steering and easy manoeuvrability, plus the fact that paddleboards literally only need a few inches of water beneath them, makes the stand-up paddleboard the ultimate platform for exploring. Add in the fantastic visibility down into the water, and the excellent fitness benefits (see below), and it's no wonder that it's the fastest growing watersport on the planet.
A more extreme version of cruising is proper 'adventure paddleboarding', where you strap your camping gear and provisions onto your board and set off on a longer mission. With long rivers to ride down in many countries, (here in NZ the Clutha is proving a particularly popular challenge), this gives a fantastic opportunity for extending the sport into the realms of some real adventure opportunities.
Surfing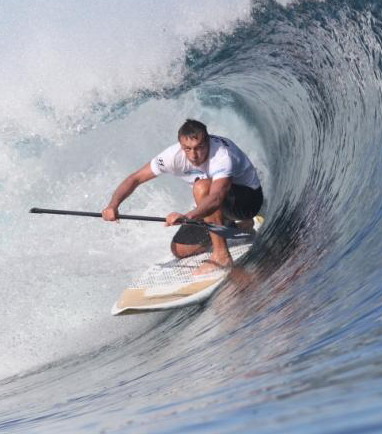 This is actually where the sport originated, in its modern form, as a platform for riding waves. The paddle allows for extra speed onto the wave, and means the paddlesurfer can get onto waves earlier than almost any other craft. The size and flotation of a SUP board also means that it's feasible and fun to catch even the tiniest of waves.
Advanced paddlesurfers use small, specialist SUP surfing boards, and have developed a style of surfing using a combination of traditional surfing technique (using foot pressure and bodyweight), and utilising the paddle to pivot around, balance off and provide extra power where necessary. The extra capabilities provided by the paddle allow SUP boards to be turned much harder and more aggressively than an equivalent sized board without the paddle.
SUP surfing is great fun, but it is absolutely vital that anyone new to this type of activity (no matter how experienced a SUP rider they may be otherwise) doesn't simply rush out into the nearest surf break and have a go. Surfing has rules, which are there for good reasons. If you don't know the rules, you will very quickly find out the error of your ways! Plus which, being much bigger than normal surfboards, an out-of-control SUP board is a danger to everyone else on the water.
Likewise, if you are already an experienced surfer and know the rules, but are new to SUP, take the time to learn to use your board, and most importantly, develop a good paddling technique, before trying it out in the surf. It's not as easy as you might think!
SUP surfing is fabulous fun. But please check out the SUP SURF CODE before taking to the waves.
Racing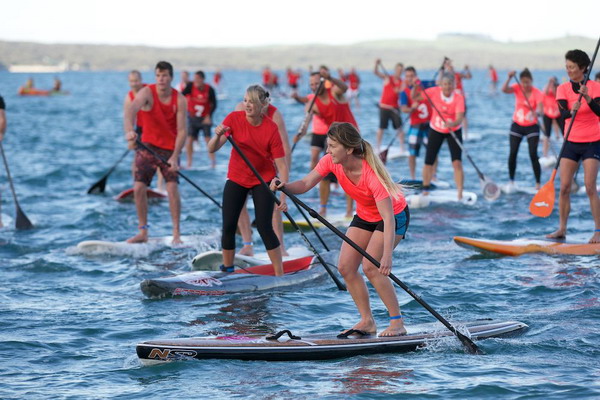 SUP racing started pretty much the first time that two SUP boards found themselves side by side, and has now developed into a full-fledged international activity, with various pro and amateur competition circuits, World Championships, and most importantly, a whole lot of local activity, "grass roots" racing where a few (often many) racers get together for a weekly bash, sometimes in a very informal manner, other times in an organised series with points and prizes.
You can race on any board, but most racing takes place on 14′ raceboards. These are available in a variety of widths; the narrower it is, the faster it is, but also the less stable it is, so the narrower boards are most definitely not for the inexperienced paddler! 
Most events will have a class for non race orientated boards, usually called the Surfboard class, or something similar. This is often the most highly contested fleet, as it's the one that literally anyone can enter!
The racing format mostly happens over a course of a few km, up to 15km+ for long distance events such as at the NZ National Championships. Short distance 'sprint racing' is now happening on many international circuits, and looks likely to increase in popularity. 'Technical racing' involves more corners, and, where feasible, a course that takes in and out through breaking surf. As the surf gets bigger, this greatly increases the technical demands on the racer, not only must they be fast but they must also understand how to get out through (and over) breaking surf, choosing the right line and timing, and then also how to get onto and surf a wave back in, which can often result in immense gains.
River Riding
Riding SUP boards through fast-flowing water on rivers is a high adrenalin ride and seriously good fun. However, it is potentially very dangerous – if there is any white water to be negotiated, riders should wear buoyancy (that provides some good torso protection) and helmet, and it makes good sense to wear knee and elbow pads too. If the white water is Grade 2, you're likely to fall off. Anything more technical and your chances of staying on are extremely slim, no matter how good you are. And most importantly, do not ever wear an ankle leash. You could end up with you on one side of a rock, and your board on the other, and you will drown. If you want to wear a leash then use the specialist ones that connect to a easily accessible quick-release on your buoyancy aid – seek advice on this, do not venture onto a river without knowing what you are doing.
River riding has become a well established part of the sport in areas where rivers and white water are easily accessible, and in the USA there are now regular competitions, some about how fast the rider can get down a section of river (for which long, fast boards are used), or how radical conditions they can survive, using smaller, wider, highly manoeuvrable boards.
Many SUP brands now offer one of both of these style of boards in their range. If you don't have access to a specialist river board, we recommend an inflatable or soft-top board, because there's a very high likelihood of it bouncing off rocks, (and quite possibly you!), unless you're not bothered about it getting severely trashed.
Fitness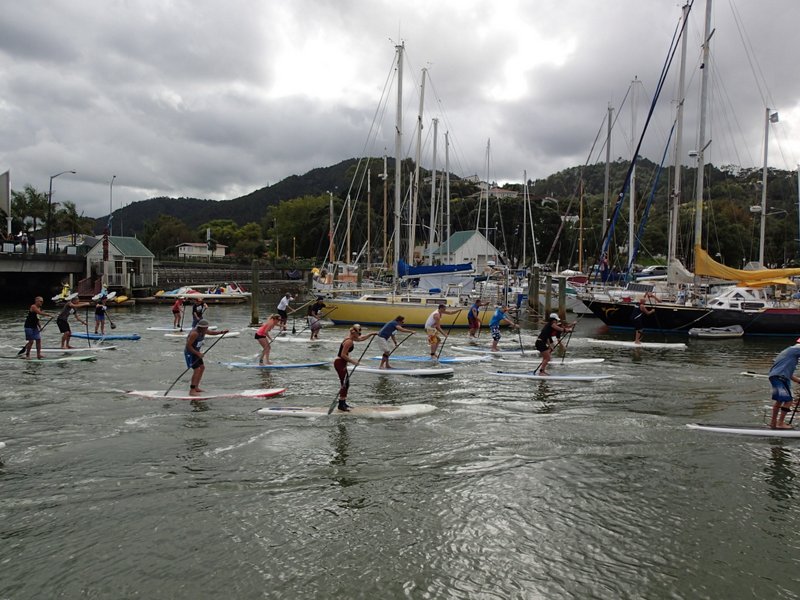 SUP burns a lot of calories, yet is also extremely low impact. It works many different muscle groups, and is particularly great for strengthening and toning those all-important core muscles. So it ticks a whole lot of boxes from a fitness point of view. If you want a cardio-and-core workout, go for a paddle!  Better still, it also really exercises and improves your balance circuits – it's exactly the same as standing on a wobble board. The sport has been used for rehabilitation and recovery, to re-train the body after hip/knee/ankle surgery, and is now regularly recommended by doctors, physiotherapists and chiropractors for general back and core strengthening.
It also offers a great platform for more specific fitness training, as every exercise you do while standing on the board is adding in the additional balance and core benefits. For this reason SUP has also become popular as a platform for yoga; adding in an extra dimension to the routines.
There are now many SUP fitness classes and options happening around the country. Specific SUP fitness exercises on paddleboards do introduce an added degree of difficulty and fitness requirement though, and should not be attempted if you aren't already relatively fit, and able to complete similar exercises on dry land.
Fishing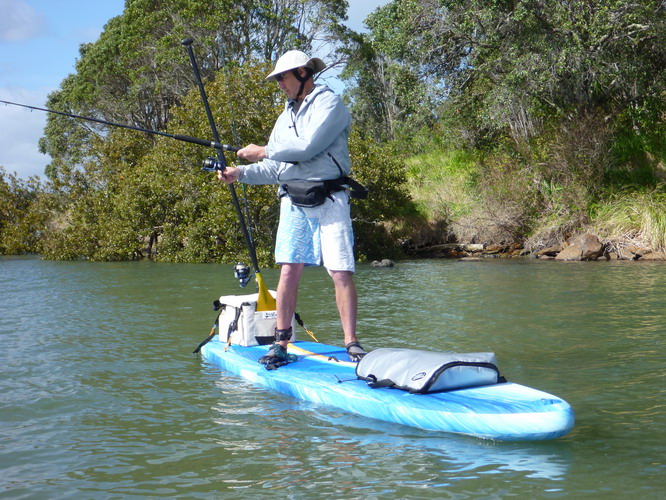 Kayak fishing has become extremely popular over the last decade, and SUP fishing looks set to go the same way. As many SUP enthusiasts are already finding, the SUP board is actually an ideal platform for fishing from – not least because you can see so much more from the standing position. The board offers a nice large working platform, and you can launch it and get into places not easily accessible by any other craft.
Many brands now offer purpose-built fishing boards, with rod holders, bait boxes and much more. They are usually extremely wide, to offer as stable a platform as possible. However, any recreational SUP board can be converted to a fishing board simply by strapping a bucket or crate (purpose built fishing crates are available) on to it, and off you go!