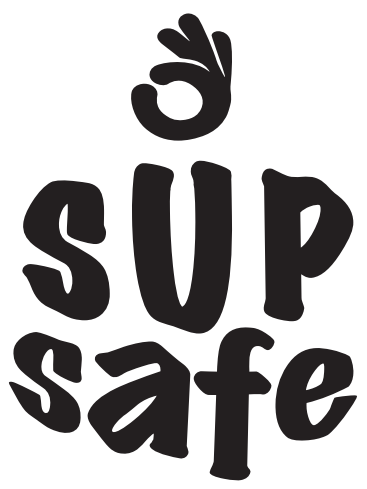 Stand-up paddleboarding is on the whole a pretty safe sport, as it is conducted at low speeds. However, like any water sport, as the video above clearly shows, there is the potential for things to go wrong! And this is especially true here in New Zealand where the weather can often change rapidly. So, however experienced a water-person you may be, we strongly advise you follow the 5-point SUP SAFE code whenever you are going out for a paddle. If you are just splashing around at your local beach and never more than a few metres off shore, in shallow water, then it's not so critical, but if you're going more than, say, 100m offshore and/or travelling any significant distance from your starting point, then you really should follow this code. It's not difficult, it's not a hassle, it  only adds a few extra seconds to your preparation, and could be the difference between a nice paddle, and a horrible disaster.
So here's the SUP SAFE code. Click on each heading to get the full lowdown on each item.
Beginners and inexperienced paddleboarders
While you're learning the basics stack the odds in your favour as much as possible. Restrict your paddling to flat shallow water, and light winds.
The one overriding factor to remember is that in your early days, the wind is not your friend. It's hard to paddle against the wind, so just don't take any chances with it. And remember too, just because it's called stand-up-paddleboarding doesn't mean it's compulsory to stand up. If you're having trouble staying on because it's getting rough, or you're struggling to make headway against the wind, kneel down, hold the paddle with both hands low down the shaft, and you'll find it far easier (and more stable) to make progress.
Casual paddling off the beach?
Obviously if you are just messing around at your local beach, never out of sight of family ashore etc, then it's not so critical to follow all of these recommendations. But if you're paddling any distance, particularly if going out of sight of where you started from, then following these recommendations is just good sense.
Getting into SUP surfing?
Don't even think about taking your SUP board out into the waves until you are confident in handling your board in bumpy conditions, can turn it quickly, and – most importantly – can get back onto it swiftly after a dismount. Because you WILL fall in when you try SUP surfing! There are also a whole lot of rules and etiquette you also need to understand about surfing, very much for your own safety. Find out more at the SUP SURF SAFETY page.
PFDs and the law
New Zealand Maritime Law says that you must carry a PFD on a small craft under 5m. While the reality is that the coastguards or harbourmasters may well turn a blind eye if you are close inshore and wearing a leash, and it does seem a bit irrelevant if you are tethered to a huge big floating thing anyway, it is still the law, and in many regions of New Zealand you will be fined if you are not wearing one.  
The only exemption for SUP is if you are actively involved in surfing, in which case you do not have to wear a PFD. At any other time, the law states that you do. Fortunately, the belt-pack pull-to-inflate style are perfectly acceptable under NZ law, and are a great option for paddleboarding. So if you are going any distance away from easy access to the shore, then we strongly recommend that you wear one. Likewise, carry your mobile phone, with plenty of charge. It could save your life!
The SUP SAFE Courses
To learn much more about all aspects of paddleboarding safety why not check out our SUP SAFE courses? You can do them online (completely free!) or with one of our trained SUP SAFE course presenters around New Zealand.